Teton Dam Failure Redux
Bureau of Reclamation implements Safety Dam Program
LeRoy W. Hooton, Jr.
June 29, 2009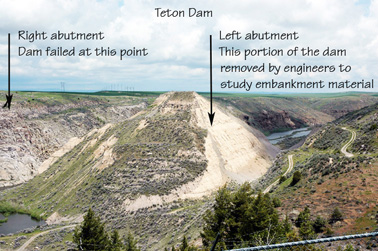 The remnant of the Teton Dam as viewed 33 years after the earthen dam failed. About 2/3 of the 2 million cubic yards of embankment remains after the failure and engineering investigation. Photo taken June 8, 2009

Located off State Highway 33, approximately 15 miles northeast of Rexburg, Idaho is the earthen remains of the Teton Dam that failed 33 years ago. The remnant of the earthen dam situated in the river bed stands as an ill-fated monument to the efforts of the local farmers and the Bureau of Reclamation (BOR) to beneficially manage the waters of the Teton River. Their aspirations were dashed with the dam failure, which resulted in widespread downstream destruction, millions of dollars in claims and recrimination over the construction of the dam.

The construction of the dam was completed and water was being stored for the first time when it failed at 11:57 a.m. on Saturday June 5, 1976. The dam spanning the Teton River canyon a distance of 3,100 feet and standing 305 feet high was nearly full at a water level near 280 feet deep. Over 80 billion gallons of stored water drained from the breached dam, sending a surge wave preceded by a cloud of dust through the towns of Wilford, Sugar City, Salem, Hibbard and Rexburg carrying cattle, logs and debris caught up in its path.

Wilford was the first community to face the wrath of the floodwaters. A 20-foot wall of water poured out of the narrow canyon mouth, giving Wilford's residents 25 minutes to evacuate after the dam failed. Buildings, trailer homes, farm equipment and anything not tied down were caught up by the surge wave as the water spread out into the flood plain.

There was adequate time to warn most of the downstream population of the pending floodwaters. The State Highway Patrol blocked access to the area. The residents within the flood plain were evacuated, many to the high ground of Ricks College; from this high point an estimated 14,000 townspeople watched the floodwaters inundate the city.

Most of the homes in Sugar City and about 80 percent in Rexburg were damaged by floodwater. Many were washed off their foundations and floated away in the water current. Over 4,000 homes were damaged. Water levels in Rexburg were 6 to 8 feet deep during the initial flood surge. Thousands of acres of top soil were swept away and over 13 thousand head of cattle died. Thirty-two miles of Union Pacific Railroad track and a bridge were destroyed by the torrent.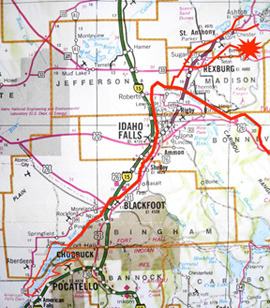 The Teton Dam failed northeast of Rexburg, Idaho and the flood waters flowed down the Snake River to the American Falls Reservoir west of Pocatello, Idaho.

The floodwaters continued to flow 90 miles downstream in the Snake River through Roberts, Idaho Falls, Shelley, Firth and Blackfoot terminating at the American Falls Reservoir. These communities had time to prepare for the flood surge; however there was flooding along the way. Every house in Roberts, except for the gas station was flooded. Next in line was Idaho Falls. Ten thousand residents filled and placed 120,000 sand bags and heavy equipment was used to excavate by-pass diversion channels to prevent the floodwaters from devastating the riverfront business district. Thirty-four hours after the dam failure, a peak flow of 100,000 cubic feet per second passed through the city. Downstream of Idaho Falls, ninety percent of the homes in Firth and an estimated 150 homes in Blackfoot were flooded. By the BOR regulating the 1.67 million acre-foot American Falls Reservoir, the raging floodwaters were finally contained.

As the water subsided, the cleanup and restoration phase of the flood began. About 2,000 displaced residents in Sugar City and Rexburg were housed in dorms and fed at the college. HUD provided 6,000 mobile homes to the valley. Besides the flood damage there was several feet of mud covering these communities.

Bus loads of volunteers came from Idaho,Wyoming and Utah to help the local residents in the cleanup. One volunteer from Brigham City, Utah who was sent to Sugar City, recalled seeing a sign reading "Free Dirt" in front of a two-story house with mud up to the roof-line on one side of the building. During the the cleanup, it was estimated that as many as 20,000 volunteers participated in the effort. Over a million man-hours of volunteer help was provided in the cleanup effort. More than 300 National Guardsmen from the 116th Headquarters Company joined the rescue and cleanup effort. Private utility companies and inter-governmental organizations participated in the restoration work.

According to a November 1976, Intermountain Section AWWA Newsletter article written by Rexburg Superintendent of Water and Wastewater Jerry E. Brian, the entire water system in Sugar City was destroyed by the flood and it was necessary to replace it at a cost of $567,000. In Rexburg, the first priority was to get the sewer system back into operation by removing mud from the sewer lines. In the following weeks crews were kept busy providing water service to HUD mobile homes with new connections and working on the service lines of damaged and condemned buildings.

The failure of the dam was devastating to the BOR, the nation's premier dam builder, which had never had a failure of one of its dams in its then 74-year history – and none since. Known for building huge dams such as Hoover and Grand Coulée, that were considered "wonders of the world," the BOR's high esteem was tarnished by the tragedy.

The construction of dam was opposed by a number of environmental groups, who after failing politically, sued to stop the project. The Idaho Environmental Council lost the court battle. Congress authorized and funded the project in 1971. Dam safety was one of the concerns raised by the opposition.

On June 8, 1976 the Department of Interior Teton Failure Review Group was formed to investigate the dam failure. Also, an independent group of engineers was organized by Interior Secretary Thomas S. Kleppe and Governor Cecil Andrus to review the matter. Both groups came essentially to the same conclusion: the BOR built a poorly designed dam, and the exact cause will never be known for sure as the evidence had been washed away.

Eleven confirmed human deaths were attributed to the dam failure. It is believed that if the dam had failed during the night, the death toll would have been much greater. The cost for BOR to construct the dam and related works was $100 million and it paid about $200 million in claims. The total damage costs amounted to an estimated $2 billion.

Since the Teton failure, measures have been taken to enhance the safety for all BOR dams under the 1978 Reclamation Safety of Dams Act, P.L. 95-578 and subsequent amendments. The mission of the Safety of Dams (SOD) program is "to insure Reclamation dams do not present unacceptable risk to people, property and the environment." BOR has 457 dams and dikes of which 362 have the potential to endanger people if a failure occurred. Fifty percent of these structures were built before 1950. Under the SOD, all BOR dams are assessed under strict criteria established by the SOD. Each structure is periodically reviewed for resistance to seismic stability, internal faults and physical deterioration. Over the years, Congress has appropriated funds to support the SOD. In Utah, the current federal budget provides funds to conduct SOD work on Starvation, Deer Creek, A.V. Watkins, Scofield and Echo dams.

In terms of the eons of time, the man-made earthen monument of the failed Teton Dam may weather, erode and wash away by the energy of falling and flowing water in the Teton canyon. But for now, the Teton Dam will not be celebrated like other BOR dams, and the remnant of the dam structure will be viewed from an austere view area cordoned-off with a few Jersey barricades, absent a kiosk espousing the project.

Select References

Images of America, The Teton Dam Disaster by Dylan J. McDonald

Teton Flood Museum, 51 North Center Street, Rexburg, Idaho

Bureau of Reclamation Web Page